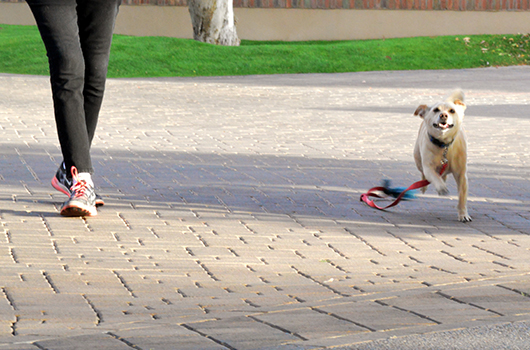 Tail Wags From Our Guests
Bobby and his entire staff have been amazing!
I have been taking my dog Cooper to Applewood for almost a year now and I have never had an issue. Bobby and his entire staff have been amazing. They are always so welcoming and take great care of our Golden Doodle. The grooming at Applewood is the best we have been able to find as well. Every time we bring our dog Cooper he is dying to get inside to see the staff. We will continue to bring Cooper to Applewood and highly recommend it. Thank you to the entire staff for being such a caring family for Coop.
~Nolan and Coop
He's a special needs dog and we never have to worry because the staff takes great care to follow instructions!
Our Corgi, Ron, receives tender loving care at Applewood!  He's a special needs dog, nearly 15 years old and walking with a cart. I never worry about him because the staff takes great care to follow instructions about his care and to offer him the most pleasant stay!  We are thankful for Applewood!
~Katherine
EVERYONE at Applewood takes extra good care of Maddie!
Meet Maddie, a soft coated Wheaten Terrier. Maddie is 11 years old and loves to play at Applewood. She enjoys seeing Bobby and the staff. The staff is professional, nice, consistent and they take good care of her. Her owner's expressed that when they lost one of their beloved pets, Maddie was very lonely. When she came to Applewood everyone was kind and caring to the family and they took extra good care with special attention to Maddie.
~Maddie & Her Owner's
He loves going to Applewood, he runs inside to play the minute he gets out of the car.
Cody is a 2 1/2 old Irish Setter who loves playing with an interactive house with stuffed baby toys in it! He's also game for any ball! He enjoys dried Chicken treats (or beef) and his favorite activity is running free, playing with other dogs and playing ball. Cody loves all of the staff member's at Applewood. They all make him feel loved, cared for and happy! The minute Cody gets out of the car he runs inside to play. He's happy to go and happy when he's picked up.
~Cody & His Owner's
A Staff that Dad and Mom Trust
Meet the kids! Hannah, Rufus, Clancy and Peyton. They are Dalmatian/Hound Mix, Dalmatian,  American Staff/Heeler Mix and Dalmatian. Ages 9 ½ , 10 ½ , 6 and 3 years, they all love visiting Applewood and start scratching at the SUV window as soon as we pull in the driveway – they cannot wait to get inside the Resort and play!!.
They love all the staff at Applewood and especially Bobby. So fortunate to have this beautiful facility and caring staff in the Valley!! My dogs come home clean, happy and tired! 
Mom and Dad love Applewood for the quality care, beautiful facilities and a staff that they trust.
~The kids and Jim & Carol N.
If Maddie could drive herself to Applewood during the week she would!
Meet Ms. Maddie Rein a 6 year old Siberian Husky. She loves catching and running after tennis balls, squeaky balls and tug a war with rope toys. She also enjoys running – loves to play "Tag" she is always it so you have to chase her around the yard. She never gets tired. Her favorite food is Hills Kidney Care and Royal Canine Urinary SO. She also has her favorite at Applewood person. Roberto! He knew her when she was just a baby. She loves him!! Maddie loves everyone their though, they all give her love and attention. She loves playing with the staff and the indoor/outdoor play areas as she is mainly an outdoor pup.
~Maddie and Her Owner
5-Star all the Way!!!
Awesome Applewood. What a wonderful resort for my 2 little dogs. I moved to Arizona not long ago and have been to many dog kennels but this is 5-star all the way!!! The grounds are beautiful the resort never smells and the staff are happy you are there. I have been 3 times since I moved here and each time my dogs are very happy to be going. They love the peanut butter kong and the outings out in the big grass yard. I have them groomed every time and they have never looked better. I recommend this pet resort believe me it is the BEST!!
~Samantha M.
Back to Applewood from now on.
Applewood is expensive. You get what you pay for. We've used Applewood for years and never had any kind of problem. We decided to take our dog to another place this past 4th of July weekend. Shiny & new, well closer to our house than Applewood and considerably less money. Great, except the fact that our little guy came home with a terrible stomach virus. No thanks. He goes back to Applewood from now on.
~Bob G.
Very clean, well-run operation.
I have been taking all of my dogs there since 1996. Very clean, well-run operation. The grounds are fantastic. Bobby makes sure this place is worthy of taking care of my German Shepherds. Thanks
~Paul
Beautiful Grounds and Great Add Ons!
The ground from the outside are gorgeous – I felt very swanky walking up. There's an animal hospital right next to it, so that was reassuring (just in case). Friendly girls at the front desk opened the door for my pooch and I, and the check-in/check-out process was smooth as could be. I was relieved to see that my dog was in good spirits, because there are some boarding facilities that she leaves in poor shape. I also liked that they included flea and tick prevention in the price, as well as a daily one-on-one play time with the room I booked.
~Irena