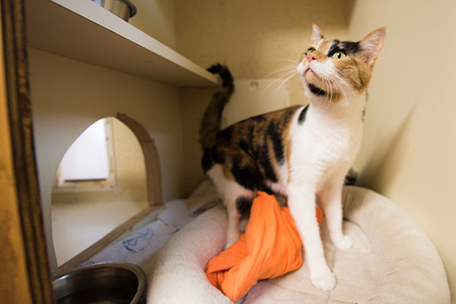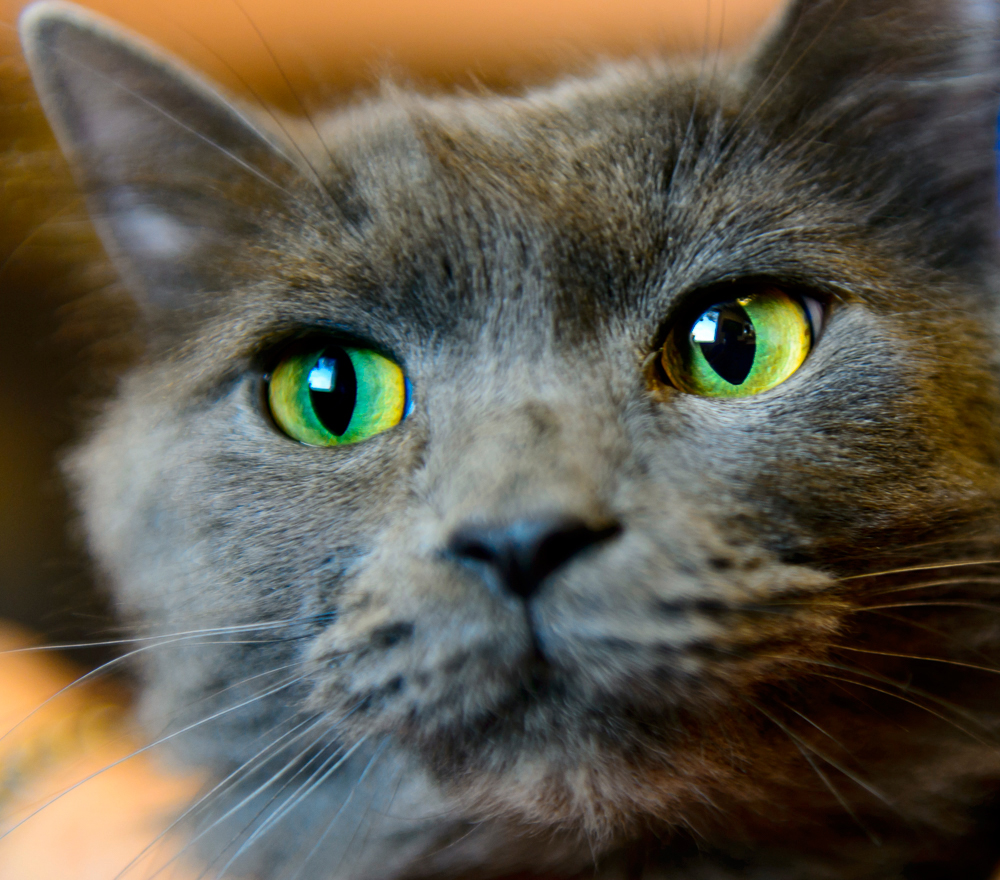 All the Comforts of Home
Applewood Pet Resort has recently been remodeled with your cat in mind. All our rooms are comfortably climate controlled, spacious, and clean. We aim to give your cat all the comforts of home with indoor only and indoor/outdoor rooms, climbing posts and lounging lofts. We also have additional services including a grooming salon and an animal hospital next door to round out your cat's unforgettable resort experience.
This page details all aspects of your cat's stay with us.
Vaccination Requirements
At Applewood Pet Resort, every precaution is taken to avoid sickness and out-breaks among our guests. To maintain that commitment to your cat's health, we require the following vaccinations (certified by your veterinarian) to be able to check in:
• Feline Distemper/Parvo (FVRCP)
• Feline Rabies
This means your cat needs to be at least 16 weeks/ 4 months old to board with us as this is the typical age in which cats receive their last round of kitten shots and are considered fully vaccinated.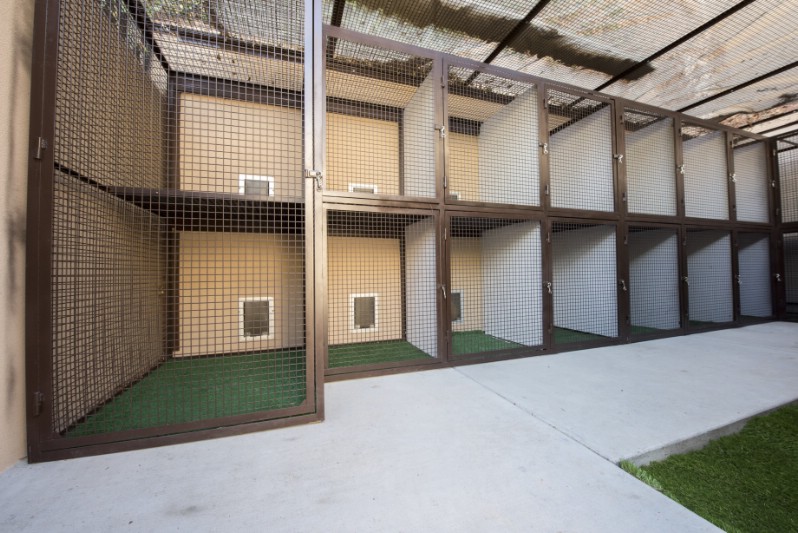 Room Information & Pricing
At Applewood Pet Resort, we offer a variety of rooms to ensure that you can find a room that best fits your cat's lifestyle and personality. We have indoor only rooms and rooms with outdoor access to a private, shaded lawn for lounging. We have rooms that overlook our lobby and rooms set away for more privacy. All the rooms come with a complimentary litter box. Designed for your cat's comfort, your cat will forget he's not at home!
Indoor Cottage $31 per night
Located in our quiet and secluded cat room off the main lobby, the Indoor Cottages are our standard rooms for cats that prefer to stay indoors. They feature two stories complete with lofts and a lower level hide-away.
Deluxe Townhome $36 per night
Located in the same quiet and secluded cat room as the Indoor Cottages, the Deluxe Townhomes are our standard rooms for cats that enjoy being outdoors as much as indoors. Inside, there are lofts to climb on, while, through the kitty door leading outside, there's a private, shaded lawn to relax on. These rooms are also connectable to expand space for two or more kitties from the same family staying together.
Calico Suite $41 per night
The Calico Suites are indoor suites and, like our other cat suites, are floor to ceiling with a flat-screen TV, carpeted ramps, lofts, and climbing posts for your cat to climb and relax on, ensuring endless possibilities for your cat to keep himself entertained. The Calico Suites are unique in that they are located back away from the lobby, perfect for the shy cat that prefers his privacy over human interaction.
Classic Suite $43 per night
The Classic Suites are indoor suites and, like our other cat suites, are floor to ceiling with a flat-screen TV, carpeted ramps, lofts, and climbing posts for your cat to climb and relax on. The Classic Suites are special in that they overlook the lobby and provide hours of entertainment, people watching throughout the day.
Deluxe Villa $47 per night
The Deluxe Villa provides the best of everything. It's our only indoor/outdoor suite, but like our other cat suites, is floor to ceiling with a flat-screen TV, carpeted ramps, lofts, and climbing posts for your cat to climb and relax on. Like the Classic Suites, the Deluxe Villa also overlooks the lobby for prime people watching, but it's unique in that it has access outdoors to a multi-level, private, shaded lawn, perfect for the cat that likes the best of all worlds.
** addl. cats sharing the same room $20/night
Activities
Afraid your cat, who's used to and loves human interaction, is going to be lonely while staying with us? Add on a Pet & Play!
Click here for more information.
Meals
For cats on special diets (kitten, weight control, allergies, etc.) we welcome you to bring in your own food and feeding instructions. Otherwise we offer our resort food at no extra charge. All meals are hand prepared by our loving staff and served using our own stainless steel bowls.
As most cats maintain their own routine for feeding, we typically free feed all our feline guests, which means we put out fresh food each morning for them to eat throughout the day and refill it each evening. If you keep your cat to a stricter schedule, we're more than happy to accommodate and will duplicate the routine you keep at home. We also encourage you to bring in your cat's favorite treats.
Resort Food 
We serve only the best here at Applewood!! Our house food is from the same brands we feed our own cats, ensuring it's yummy and nutritious. For our guests that eat kibble at home, we provide FROMM Family Gold for Cats. If your cat is more accustomed to a wet food diet, we provide FROMM (chicken & salmon or salmon & tuna flavors) wet food for cats. And, of course, we can provide both kibble and wet food to the cats that want a bit of everything.
We believe it's important for you to know what is in the food your cat is eating. For more information on the brands we feed, click here to visit our Retail page.
Own Food
If your cat is on a special diet (kitten, weight control, etc.), or has specific allergies, we invite you to bring in your cat's regular food and we'll duplicate your feeding schedule. If you have any questions about feeding, check out our FAQ's or contact us here.
Medication & Supplements
The highly trained and experienced staff at Applewood Pet Resort is prepared to help your cat with any special medical requirements he may have. We're fully equipped to give any medication (including insulin) and any supplements that might be a part of your cat's daily routine. Our vigilant staff is here 24/7 to watch over your cat as if he were our own, and he is; each cat that stays with us becomes a part of the Applewood Family.
Also, with our Animal Hospital conveniently located right next door, it's easy to schedule an exam, vaccinations, laser treatments, teeth cleaning, or surgery to take place during your pet's stay at the resort and you can relax, knowing that your cat is going to be well looked after during his recovery. Just call our hospital to set up the appointment and tell them when your pet will be staying with us.
Feel free to discuss details and ask questions about your medical concerns while making your reservation or at check-in.
Grooming
While your cat is staying with us, consider getting him groomed by our experienced groomers. Whether your cat needs just a bath or a full lion cut, our groomers are the best in the business. Nail trims are always included. We can also apply SoftClaws as long as the SoftClaws are provided by the owner. We're happy to announce that we now have SoftClaws available for sale in the lobby!
For more information on our groomers and services check out our Grooming page.