The Best Pet Resort Experience in the Valley!
Applewood Pet Resort is happy to offer all the comforts of home…and many more!
Your pet will feel right at home while staying at Applewood Pet Resort. With comfortable, spacious rooms, outdoor park-like settings, a caring staff that loves your pet like family, numerous engaging activities, and all the amenities you would expect at a resort, we welcome your pet to Applewood!
While you're on vacation, send your pet on a vacation of his own!
We've built an entire resort experience around your pet! We offer a variety of lodging options, delicious and healthy meals, plenty of exciting activities, a full service grooming salon, a sparkling pool, and an onsite animal hospital. There isn't a better designed getaway for your pet than a stay at Applewood Pet Resort!
Boarding for Dogs
Applewood Pet Resort has recently been remodeled with your dog in mind. All our rooms are comfortably climate controlled, spacious, and clean. We aim to keep your pet entertained all day long with indoor and outdoor play areas, a dazzling pool with fountains, and special treats to enjoy. We also have additional services including a grooming salon and an animal hospital next door to round out your dog's unforgettable resort experience.
Vaccinations/Requirements
At Applewood Pet Resort, every precaution is taken to avoid sickness and out-breaks amongst our guests. To maintain that commitment to your dog's health, we require the following vaccinations (certified by your veterinarian) to be able to check in:
Distemper/Parvo
Rabies
Bordetella (Kennel Cough)
This means your dog needs to be at least 16 weeks (4 months) old to board with us as this is the typical age in which dogs receive their last round of puppy shots and are considered fully vaccinated.
Special note: As of March 2017, we strongly recommend the leptospirosis (lepto) vaccination, though we are not requiring it, please check with your veterinarian on their recommendations.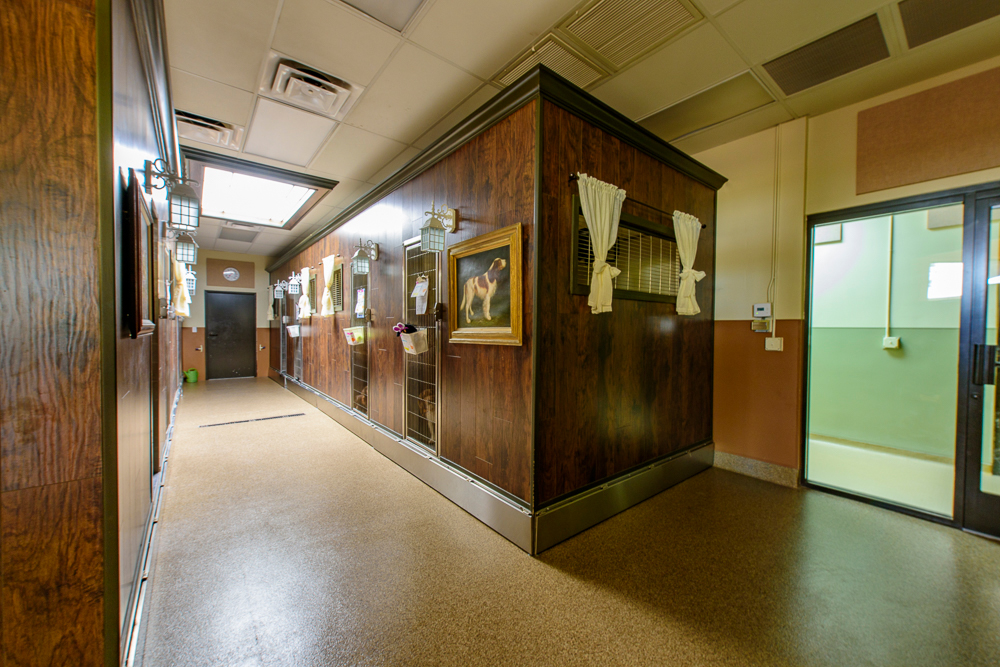 Room Information & Pricing
At Applewood Pet Resort, we offer a variety of rooms to ensure that you can find a room that best fits your dog's lifestyle and personality. It's important to us that your pet doesn't gain any bad potty habits during his stay, so all our guests are taken outside to go potty twice a day and we offer a variety of options for additional exercise and potty breaks depending on your dog's normal routine.
Our rooms are designed with your dog's well-being in mind. All the indoor rooms and suites in the Resort are built off the ground and have drains built under each room to expedite easy cleaning for your pet's comfort. We use vet-recommended Kydex flooring to relieve pressure on your dog's joints and pads and rooms are divided with walls as opposed to traditional fencing for your pet's privacy. Instead, our guests enjoy socializing with other guests across the aisle and enjoy the soft natural lighting and skylights in the rooms.
The Applewood and Presidential Suites were built to reflect your home for your dog's ultimate comfort. With four walls, a traditional door, and a doggie door leading to a fenced patio and turf yard, your dog may forget he's not at home!

Standard Rooms
Our standard rooms are offered in three convenient sizes to accommodate any dog from the smallest teacup Yorkie to a family of Labradors. For your pets comfort we can put beds or blankets in their room at your request. These rooms have piped in music for a relaxing stay.
Small (4×4, limit 15 lbs.): $36 per night
Medium (4×6, limit 40 lbs.): $40 per night
Large (4×8): $43 per night
* Two potty breaks included. Additional playtimes and potty breaks available.
** addl. dogs sharing the same room $25/night
Junior Suites (4×8): $56 a night
Located in a secluded, quiet room at the back of the resort, the Junior Suites are upgraded versions of the Standard Large Room. Decorated with a beach front theme, these suites come comfortably furnished with premium bedding and a flat screen television.
*Two potty breaks and One Pet & Play included. Additional playtimes and potty breaks available.
Classic Suites (6×8): $61 a night
Larger mirror images of the Junior Suites, these Classic Suites are located in the same secluded, quiet, beach front decorated area and also come furnished with premium bedding and a flat-screen television.
*Two potty breaks and One Pet & Play included. Additional playtimes and potty breaks available.
Luxury Suites (8×8): $66 a night
These premium 8×8 indoor suites offer quiet comfort for your dog. Secluded from the other rooms in the resort, these semi-private suites are perfect for the dog who deserves a little extra pampering, or simply prefers peace and quiet. Your dog will enjoy premium bedding, a television, and quiet surroundings.
*Two potty breaks and One Pet & Play included. Additional playtimes and potty breaks available.
The Applewood Suite (145 sq ft): $95 a night
Located with the Presidential Suites in the west wing, these beautiful suites are designed for your dog's ultimate privacy and comfort. These suites feature carpeting, a premium doggy day bed, a flat screen TV, a fenced in patio and turf yard, and a convenient doggy door. (We lock the doggy door at night for safety.)
*Two potty breaks and One Pet & Play included. Additional playtimes and potty breaks available.
The Presidential Suite (175 sq ft): $105 a night
Our largest and most popular suite is located in the quiet west wing of the resort. The fully private suite offers a spacious 175ft2 of indoor/outdoor accommodations. This large suite is complete with carpeting, premium raised bedding, a flat screen TV, fenced in patio and turf yard, and doggy door that allows your dog to travel in and outdoors at his/her leisure. (We lock the doggy door at night for safety.)
*Two potty breaks and One Pet & Play included. Additional playtimes and potty breaks available.
**addl. dogs sharing the same suite $40/night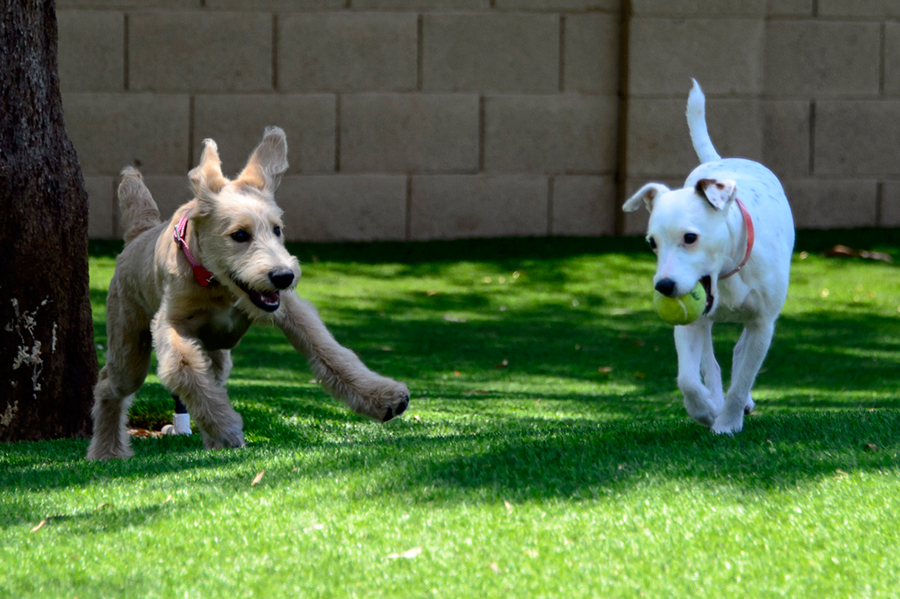 Activities
In addition to comfortable accommodations, we want your dog exercised and entertained during their stay. We offer over two acres of outdoor play yards and a dazzling doggie pool complete with water jets and gurgling geysers as while as specially prepared treats for your dog to enjoy. Be sure to add these on to give your dog the full resort experience!
Click here for more information on all the variety of options.
Meals
For dogs on special diets (puppy, weight control, allergies, etc.) we welcome you to bring in your own food and feeding instructions. Otherwise we offer our resort food at no extra charge. All meals are hand prepared by our loving staff and served using our own stainless steel bowls. We typically feed two meals a day, breakfast and dinner, but we are happy to follow your regular home feeding schedule if that includes lunch or a late-night snack. We also encourage you to bring in your dog's favorite treats, but please leave all treats containing rawhide at home.
For more information about why we don't accept rawhide click here.
Resort Food
We serve only the best here at Applewood!! Our house food is made from the same brands we feed our own dogs. It's a yummy and nutritious mixture of ingredients chosen with your dog's taste-buds and health in mind. We start with FROMM kibble, chicken and brown rice flavor, specifically chosen for its health benefits and the fact that it's gentle on even the most sensitive of stomachs. Then we add Evanger's canned food, chicken and rice flavor to make it even tastier for the pickiest of eaters. Finally, we pour in warm water, blending it all together by hand into a soup-like mixture that's appetizing even by human standards!
We believe it's important for you to know what is in the food your dog is eating. For more information on the brands we feed, click here to visit our Retail page.
Own Food
If your dog is on a special diet (puppy, weight control, etc.), or has specific allergies, we invite you to bring in your dog's regular food and we'll duplicate your feeding schedule. If you have any questions about feeding, check out our FAQs or contact us here.
Medication & Supplement
The highly trained and experienced staff at Applewood Pet Resort is prepared to help your dog with any special medical requirements he may have. We're fully equipped to give any medication (including insulin) and any supplements that might be a part of your dog's daily routine. Our vigilant staff is here 24/7 to watch over your dog as if he were our own, and he is; each dog that stays with us becomes a part of the Applewood Family.
Also, with our Animal Hospital conveniently located right next door, it's easy to schedule an exam, vaccinations, laser treatments, teeth cleaning, or surgery to take place during your pet's stay at the resort and you can relax, knowing that your dog is going to be well looked after during his recovery. Just call our hospital to set up the appointment and tell them when your pet will be staying with us.
Feel free to discuss details and ask questions about your medical concerns while making your reservation or at check-in.
Grooming
Is your dog due for his next grooming appointment? Schedule him for a groom or a bath while he's staying with us and we'll send you home with a glowing, happy, and clean pup!
For more information on our groomers and services check out our Grooming page.